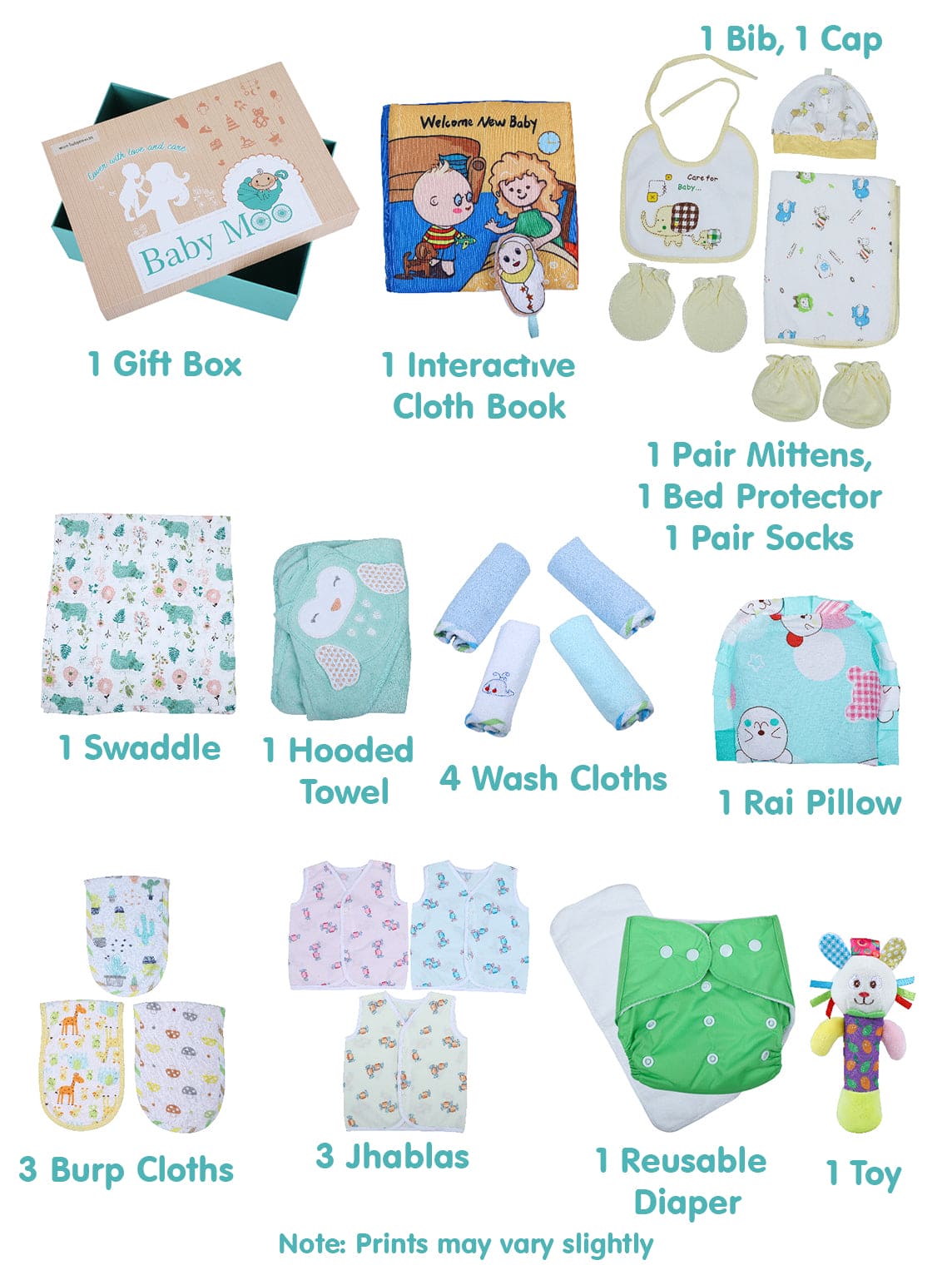 Newborn Essentials Super Combo 21 Pcs Unisex Multicolour
Approximate delivery between -
If you are looking for a premium gift hamper that is value for money, this is the one! Specially curated by the experts at Baby Moo, this unique 21 pcs super combo includes all the major baby essentials which are useful for new parents.
The items here are essential for children between the age of 0 to 3 years so your gift will stay with the family for a long time and will be remembered. This hamper will make a stunning impression at a Baby Shower, Birth Announcement Party, Naming Ceremony or Birthday.
Features:
> Durable & high quality products
> Educational book helps in sensory development
> Rai Pillow prevents the risk of flat head syndrome and possesses natural warming properties
> Washable, reusable, eco-friendly diaper
> Super soft and cute hooded towel
> High quality organic multi-purpose muslin swaddle
> Breathable Jhablas perfect for daily wear
> Attractive handheld rattle is the perfect companion for your child
> A set of wash cloths & burp cloths because a parent can never have enough of these
Note: Colour & Prints may vary.
Material:
5 Piece Gift Set - Cotton, Polyester
Cloth Book - Cloth with textures
Rai Pillow - Cotton, Rai
Cloth Diaper - 100% Polyester
Hooded Towel - 100% Cotton Terry
Muslin Wrapper - 100% Muslin Cotton
Jhabla - 100% Cotton
Baby Rattle - Polyester, Fiber, Plush
Wash Cloths - Terry Cotton
Burp Cloths - 65% Cotton, 35% Polyester
Care Instructions:
Apparels if any to be hand. washed. Burp Cloths, swaddle & towel can be machine washed. Accessories to be wiped clean only.
Product Dimensions:
Gift Set L 45 cm X B 35 cm X H 0.2 cm
Cloth Book L 18 cm X B 18 cm X H 4 cm
Rai Pilllow L 24 cm X B 22 cm X H 3 cm
Cloth Diaper L 18 cm X B 17 cm X H 0.3cm
Hood Towel L 76 cm X B 76 cm X H 0.2 cm
Wrapper L 110 cm X B 110 cm X H 0.1 cm
Jhabla L 23 cm X B 20 cm X H 1.5 cm
Rattle L 21 cm X B 9.5 cm X H 6 cm
Wash cloths L 25 cm X B 25 cm X H 0.5 cm
Burp Cloths L 44 cm X B 18 cm X H 0.3 cm
Country of Origin: India
Package Includes:
1 x Dry Sheet
1 x Bib
1 x Cap
1 x Pairs of Mitten
1 x Pair of Socks
1 x Cloth Book
1 x Rai Pilllow
1 x Cloth Diaper
1 x Hooded Towel
1 x Wrapper
3 x Jhabla
1 x Rattle
4 x Wash cloths
3 x Burp Cloths
1 x Gift Box
Our Exchange Policy
At Baby Moo, we are pleased to offer a one-time exchange for your purchased product for a different size only. If we are unable to exchange the item because of the product or size being out of stock, you will receive store credit. For booking your exchange, please whatsapp us a picture of the product and invoice on +91 70212 66990. 
Our Return Policy
At Baby Moo, we offer a money-back guarantee in the form of store credit if you are not satisfied with your shopping. For booking your return, please whatsapp us a picture of the product and invoice on +91 70212 66990. 
Our Cancellation Policy
Cancellations are only accepted within 24hrs of placing your order if it has not been dispatched already, after which the order cannot be cancelled.
Note:
In either of the above cases to-and-fro shipping cost is to be borne by the customer.
The whole process will take 8-10 working days (does not include Saturday, Sunday and Holidays).
Exchanges/store credit will be processed only after the product passes the quality check.
Eligibility Criteria:
We accept returns/exchanges for items within 7 days from the delivery date.

The items must be in original condition, unwashed, unaltered and unworn and in the same packaging along with the product tags and proof of purchase from babymoo.in.

No used products will be exchanged. If a product is received in broken packaging or with a damaged piece, then the exchange is not guaranteed.

You may only exchange the product for a Different Size. In case, you want a different product, kindly choose the Return Method as "Credit" instead. We will provide you with Store Credit which can be used for any future purchases at

www.babymoo.in

within 6 months.

Certain baby products cannot be exchange due to hygiene reasons.

Items on Sale are not returnable or exchangeable.

Free Gifts must be returned along with the product.

Internationally shipped items are not returnable or exchangeable.

Age is suggestive, please refer to the product dimensions/size chart.
There will be no cash refund for COD orders and there will be no refund of shipping charges or COD Fees.

Personalised products cannot be dispatched on COD and cannot be exchanged or returned. If there are any special requests for personalisation these need to be mentioned at the time of order placement.

Disclaimer: Product colour may vary slightly from the picture.
MORE FROM THIS COLLECTION